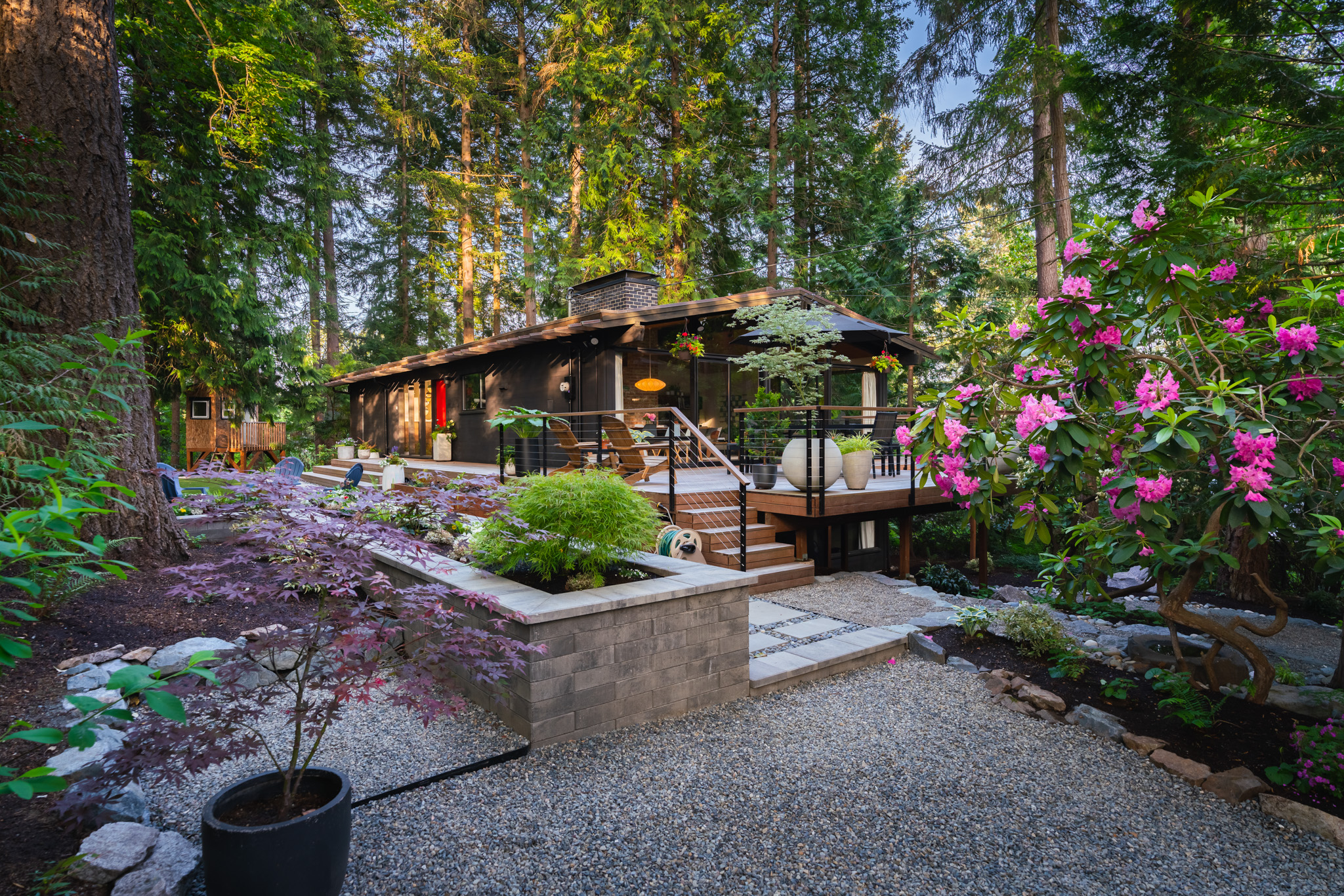 Experience Bespoke Design Concepts and Eco-friendly Solutions Tailored Just for You
As one Seattle's award-winning landscape design service, we specialize in:
Creating personalized landscape designs that reflect your unique style and meet your specific needs.
Implementing eco-friendly approaches that not only enhance the beauty of your space but also contribute to a sustainable future.
Providing expert guidance throughout the process, ensuring a seamless transformation of your outdoor space.
We understand that every client is unique, and that's why we offer bespoke design concepts tailored to your lifestyle, preferences, and the Pacific Northwest climate. Our team is committed to delivering a final product that you'll love and enjoy for years to come.
Ready to transform your outdoor space? Schedule a free consultation with us today or request a quote to get started on your journey to a breathtakingly beautiful landscape.
Announcement
Our design team is currently focusing on serving our Landscape Design and Build clients. Our seasoned team, armed with unparalleled expertise and years of experience, is dedicated to transforming outdoor spaces into beautiful, functional masterpieces. We understand that every space has its unique potential and every client, their distinct vision. It's our mission to marry these two aspects to create a landscape design that not only meets but exceeds expectations. If you're contemplating a landscape design and build project, we encourage you to engage with our team. We are committed to working closely with you, understanding your needs, and developing the perfect solution that aligns with your design aspirations. Let us help you turn your dream outdoor space into a reality. Reach out to us today – we'd love to hear from you!
Our Landscape Design Process
Creating the perfect outdoor space starts with thoughtful, expert landscape design. At Classic Nursery & Landscape, we believe that a well-designed landscape not only enhances the aesthetic appeal of your property but also adds functional value, turning your outdoors into an extension of your living space. Our landscape design process is comprehensive and meticulous, beginning with an initial consultation to understand your vision and needs. This is followed by a thorough site analysis to assess the potential and constraints of your space. Armed with this information, our experienced design team crafts a unique concept that blends your personal style with the natural characteristics of your site. The final stage involves incorporating any final revisions and creating the final plans that will guide the construction of your landscape project. With our expertise and commitment, we ensure each landscape solution we create is as unique as the clients we serve.
Landscape Design
Step 1: Initial Consultation
Embarking on your landscape design journey begins with an initial consultation, a critical step that sets the foundation for your dream outdoor space. We believe this is more than just a meeting; it's an opportunity to understand your vision, tastes, and lifestyle. During this consultation, our team of experienced professionals will walk you through our design process, answer any questions you may have, and offer expert advice tailored to your unique situation. We'll discuss your preferences, assess your needs, and explore potential concepts for your landscape. Our goal is to ensure that we're on the same page with you, delivering a design that not only meets but exceeds your expectations. You can expect to walk away from this consultation with a clear understanding of the next steps, and excitement for the transformation ahead.
Landscape Design
Step 2: Site Analysis and Mapping
This crucial step allows us to fully understand the unique characteristics of your outdoor space, setting the foundation for a design that is both beautiful and functional. Our team uses advanced tools and techniques to evaluate sun and shade patterns, assess soil types, and identify existing plantings. We meticulously map out your space, providing a visual representation that helps you envision the transformation ahead. Site-specific details like drainage issues, views, and potential site limitations are all taken into consideration. This comprehensive understanding of your site not only ensures a design that harmonizes with its surroundings but also helps prevent costly design mistakes down the line. With our rigorous site analysis and mapping process, we ensure that your landscape design is firmly rooted in understanding, resulting in an outdoor space that truly shines.
Landscape Design
Step 3: Landscape Design Presentation
This stage is where vision begins to take form, and your dream outdoor space starts to become a tangible reality. Our team presents you with a unique and personalized design concept, meticulously crafted based on your preferences, site analysis, and our design expertise.  This interactive presentation allows you to visualize your future landscape, ask questions, provide feedback, and make any necessary adjustments. By engaging in this collaborative process, we ensure the final design is a true reflection of your vision, setting the stage for a landscape transformation that's more than just aesthetically pleasing – it's uniquely yours.
Landscape Design
Step 4: Revisions and Final Plans
The final step in our landscape design process involves design revisions and delivery of construction-ready plans. We value your feedback and refine the design until it perfectly matches your vision. Once finalized, we provide detailed plans, including measurements, plant information, and construction guidelines. This ensures a smooth transition from design to reality, marking the start of your dream landscape's transformation into a tangible, beautiful outdoor space.
Fully Integrated Landscape Design Firm
At Classic Nursery & Landscape, we pride ourselves on our unique approach to landscape design. Our professional team, backed by years of experience and a passion for transforming outdoor spaces, brings a distinctive touch to each project we undertake. What truly sets us apart is our 10-acre nursery, a testament to our commitment to our community and horticultural expertise. This thriving nursery supports our design process, providing us with an unparalleled understanding of our plant inventory. As a result, we can craft bespoke solutions for our customers, aligning their vision with our stock to create a seamless design-to-installation process. Our in-house construction services further enhance our ability to deliver exceptional results. At the heart of our work lies our company's design philosophy: creating landscapes that are not just beautiful, but also functional and sustainable. Customer satisfaction is our top priority, and we strive to exceed expectations at every step of the journey.
Landscape Design Package Includes
Landscape Design presentation at your property

One 24 x 36″ plan

Two 11 x 17″ plans

One complimentary revision

Construction estimate
Ready to transform your outdoor space? Schedule a free consultation